Medicine Hat Weight Loss with Ideal Protein
A Track Record of Success
The Ideal Protein Weight Loss Protocol is a medically developed weight loss method backed by over 25 years of success.
How does it work? In addition to stable, sensible weight loss, we provide our dieters with the education to develop better eating habits.
This knowledge helps them translate their initial weight loss into sustainable lifestyle changes that promotes stable weight maintenance and can improve overall well being after dieting ends.
A Medicine Hat Weight Loss Centre Designed for Results
Our objective is to help our dieters to set and achieve their weight loss goals and teach them to make better food choices, once the weight loss portion of the program is completed.
Get Started on Your Weight Loss Journey
Interested in learning more about how Ideal Protein can help you lose weight, while teaching you healthier lifestyle strategies to ensure you can keep the weight off? Our Medicine Hat Weight Loss with Ideal Protein Centre has been rated as one of the best coaching centres in all of Canada. Every dieter in our centre receives a FREE Body Composition Analysis from Day 1. Each weigh-in is an individualized 'one-on-one' coaching session each week special for each dieter.
William (Guillaume) was nominated by one of our amazing dieters and chosen by Ideal Protein Corporate as the "COACH OF THE MONTH" for June 2015 world-wide.
Celebrating 10 Year Partnership Award
Weekly personalized weight and measurement progress analysis.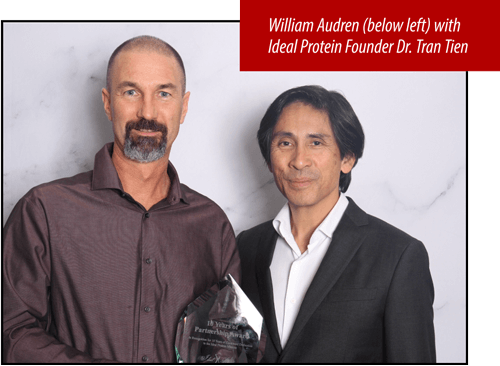 Dr. Corissa Audren D.C., M.Sc was the first to bring the Ideal Protein protocol to Medicine Hat. We are proud to see that, based on our success, Ideal Protein has grown to a leader in weight loss and lifestyle in our area.
We have helped dieters to lose over 40,000 lbs since 2009. Our success has been built on quality one-on-one coaching, long-term support, and ongoing education. Our coach William, has been recognized as one of the Top Canadian coaches. His education in nutrition and his experience in the food industry help him understand and support dieters in all stages of their lives. He lost 47 lbs and has maintained his weight since 2009 using the protocol and the Ideal Protein lifestyle.
The Ideal Protein Protocol was created by Dr. Tran Tien, Chanh, an award-winning graduate of the Faculty of Medicine in Paris. Dr. Tran Tien started his career as a general practitioner and sports physician, but quickly became interested in nutrition and obesity related issues.
With our medically designed weight loss protocol, we can help you lose weight, improve your health and change your lifestyle to keep it off.
Ideal Protein is a weight loss and lifestyle education organization built on the foundation of a medically designed and developed weight loss protocol.
Since its development, Ideal Protein has gathered a team of medical practitioners from a wide spectrum of specialties to create a Medical Advisory Board whose goal is to provide guidance to physicians and healthcare providers who offer Ideal Protein as a sustainable weight loss option.
Since 2004, Ideal Protein has been committed to the four pillars of validated science for safe weight loss, personalized one-on-one coaching and support, dieter empowerment and a healthier lifestyle education so dieters may sustain their results long-term. These four pillars, and the emphasis on the need for lifestyle change to ensure successful weight loss, are at the heart of what makes our protocol unique.
Visit our Ideal Protein Weight Loss website for more information.
Or call (403) 504-9292 to start your Medicine Hat weight loss program today!